Dr.H.N : Our Source of Inspiration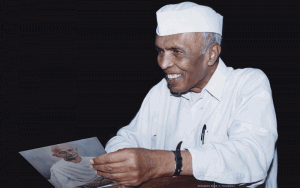 Dr. H.Narasimhaiah (1920-2005) was the President of the National Education Society of Karnataka which is founded being inspired by nationalistic ideals. Dr. H. N. a great teacher, and educationist and a man of scientific temper, rose to the zenith of his career by becoming the Vice-chancellor of the University of Bangalore. He was the recipient of 'Tamrapatra' award. He was also awarded 'Rajyotsava Prashasti'. The kannada University, Hampi, conferred upon him 'Nadoja' and the University of Gulbarga, the Honorary D' Lit in recognition of his meritorious service to the cause of education. His autobiography 'Horatada Hadi' and 'Terada Mana' fetched him Karnataka Sahitya academy Award. As an embellishment to all these, the Government of India conferred upon him 'Padmabhushana' award. Dr. H.N. was also the founder president of the Bangalore Science Forum (1962), which has won two national awards for popularizing science. He also founded the Bangalore Social sciences Forum (1992). He was responsible for starting the Bangalore Lalithakala Parishat and B.V. Jagadeesh Science Centre.
Dr. H.N. as an individual and an educationist set an example in public life by leading of simple a life.
Dr. H.N. showed continued concern and empathy for the poor and the downtrodden in society. He also inculcated the same values among his students by introducing 'value – based Education' as a part of curriculum. All the institutions of the National Education Society have been following the philosophy and ideals which Dr. H.N. stood for.